High dusting is the process of cleaning hard-to-reach areas, usually more than 16 feet high, in commercial buildings. Surfaces that are routinely cleaned via high-dusting services include:
• Walls
• Ceilings
• Air Vents
• Window Ledges
• Light Fixtures
• Exhaust fans
• Pipes
High dusting is performed by professional cleaning technicians who know how to clean high ceilings in accordance with OSHA specifications. They utilize specialized cleaning equipment designed to get into high spaces for the removal of dust, dirt, and bacteria to help maintain a healthy environment.
THE IMPORTANCE OF HIGH DUSTING
It's impossible to keep dust out of a building, and that's why high dusting is so important. People track in dirt and dust when they enter a building, and those contaminants can seriously impact air quality.
Poor indoor air quality can threaten productivity by causing headaches, fatigue, and difficulty concentrating. Exposure to dust and tiny particles can also cause or exacerbate health problems like asthma, allergies, and other respiratory issues. Cleaning dirt and dust through high dusting is about more than just keeping things tidy and looking good. Periodic high dusting contributes to a clean workplace and helps maintain a healthy and productive environment.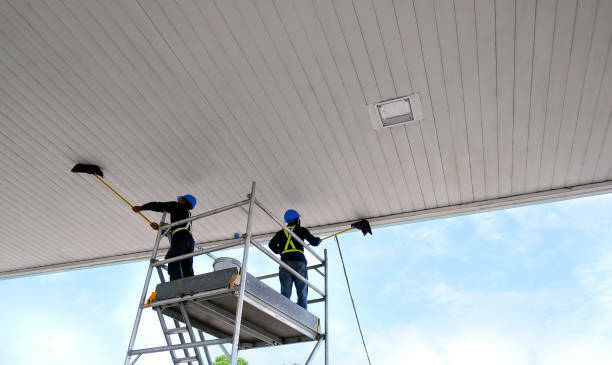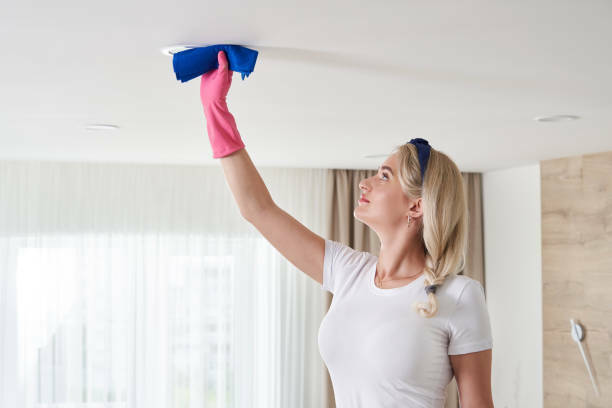 Facilities that benefit greatly from high dusting services as part of a comprehensive regular cleaning regimen include:
– Hospitals
– Restaurants
– Offices
– Retail Stores
– Grocery Stores
– Warehouses
– Gyms
– Machine Shops
– Airports
– Malls
– Schools
Ceiling cleaning, wall cleaning, and fixture cleaning in a large building require the services of professionals with expertise using specialized equipment to keep from spreading dust and allergens. This is especially important in any high area that include vaulted ceilings, ledges, fans, or exposed ventilation pipes that can't be reached with standard cleaning equipment. Dust and dirt land and build up on these surfaces. If these particles aren't properly and adequately removed through high dusting, they can fall in dirty clumps on floors, equipment, employees, and customers.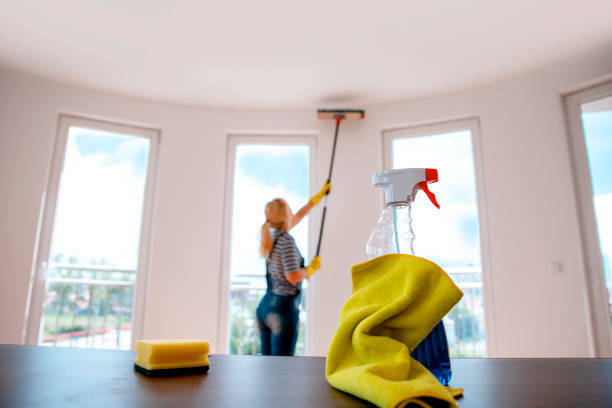 Highly maneuverable with multiple attachments, our system utilizes extendable telescopic poles to get into even the most hard-to-reach high crevices.
We use the skyVac system, which includes a vacuum more powerful than most other cleaning units on the market. Highly maneuverable with multiple attachments, our system utilizes extendable telescopic poles to get into even the most hard-to-reach high crevices.
If you have a commercial building with ceilings, walls, pipes, ledges, fixtures, and other high areas, you can count on dust hiding out of sight. High cleaning is a valuable service enabling you to maintain a clean and healthy environment for your employees and customers.
Jani-Serv clients in the Salt Lake City area call on our experienced, safety-conscious background-checked technicians to deep clean all those hard-to-reach high areas. Our services leave furnishings covered and untouched, and we work to ensure there is no contamination during the cleaning process. Additionally, we deliver high dusting services after hours, so there is no disruption to your business.
Contact us today to discuss scheduling and pricing options for high dusting services that will help maintain the indoor air quality necessary for a healthy indoor environment.
Jared at Jain-serv. Just a quick note to let you know that Marco Ramirez came yesterday and did an outstanding job cleaning our restrooms! I noticed on the business card he left me that he is the VP of Operations. I am deeply impressed at how you and your company responded to our cleaning request.
Sandy B.
Google
Shout out to Jani-serv Cleaners! (jani-servinc.com) I found out on Saturday night that I needed a home deep "covid" carpet cleaned. I reached out to Jani-serv that evening and he had them cleaned by Monday afternoon. Great customer service!
Misty R.
Google
The Jani-serv team does a great job of keeping our building looking nice and professional! Really impressed with how they keep on top of things.
Laura B.
Facebook
We Provide The Best Cleaning Services
We make the cleaning experience easier for you and your business. Our goal is to make cleaning enjoyable again and to give you your free time back so that you can concentrate on what's more important.
One of the most often neglected aspects when it comes to cleaning is your showerhead and faucet. These areas can often get built up with
Read More »
Why use a recurring cleaning service? Running a business is one of the most multifaceted ventures you will embark on at some point in life.
Read More »
As the owner of a rental property, the two most important aspects of your business are the quality of service you provide to your customers
Read More »